Meet The Team: Sheri Calvert
A Sagittarius to the core, her favorite style icons include Lady Gaga and Cher. She juggles sales, design sensibility and project management with grace and a smile. If you haven't yet met Serif's Design Center Manager, Sheri Calvert, you're going to want to real soon. Bringing with her a Bachelor's degree in design and drawing from a career background in fashion doing production, product development and B2B visual merchandising, Sheri has developed a keen eye for style. "Working in real estate design came natural to me and was an easy shift. It felt good to help people look good, but feels better to help people live better."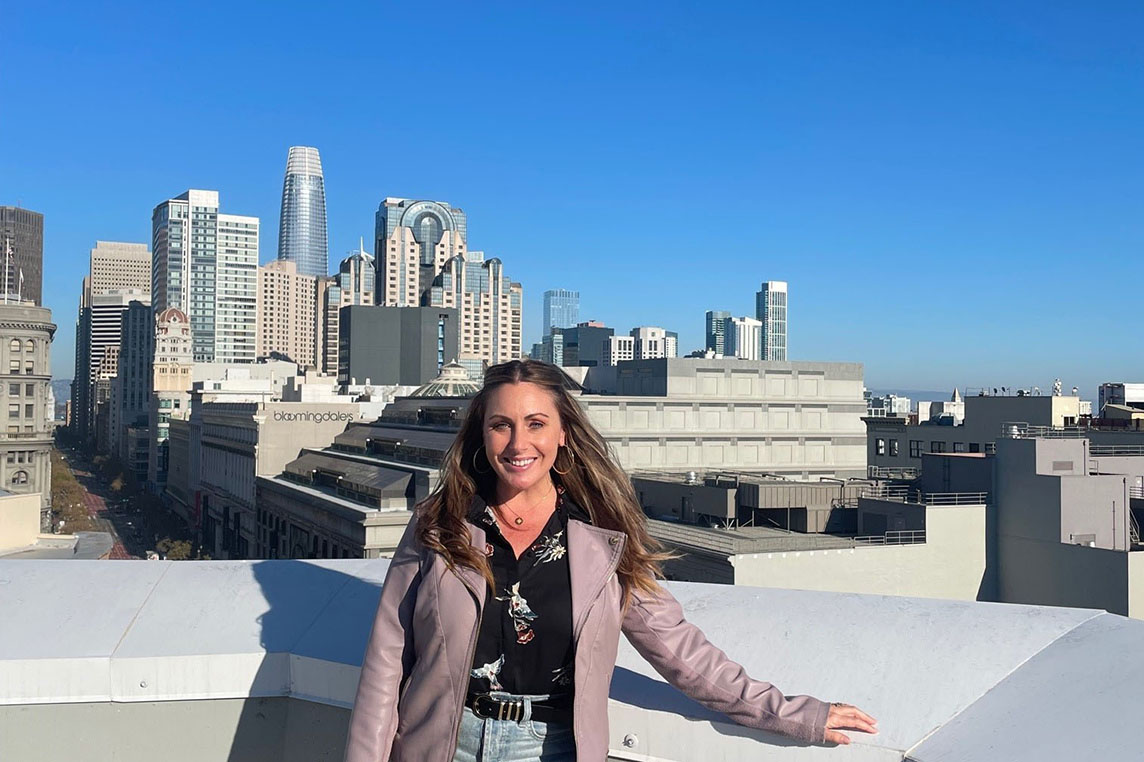 A native of coastal California, Sheri grew up with a very creative family in Monterey. "On the weekends my mom and dad were always refurbishing old furniture, re-painting interiors and updating our home interiors seasonally with a cool California vibe. My home was boredom proof as it was constantly in creative flux."
"I like wearing multiple hats, but if I had to pick a "part" I'd say that I like to help people make good design choices. Turning their house into a home is very gratifying." ~ Sheri Calvert, Serif Design Center Manager
Boredom proof living at Serif comes in all shapes and sizes. The building is complete and stunning model residences boast city views through expansive windows, bringing the artistic attitude of each home to life. The unique shape of the building means each new home is available in several different sizes. Functional and flexible floor plans include open kitchens and living spaces, while select floor plans feature flexible offices and dens. Find your fit and start styling your new home in the heart of San Francisco. For extra design inspiration, Sheri says some good Instagram accounts to follow include: @kellywearstler, @destinationeichler and @elledecor.
"Greige is the new black."
We asked Sheri about current trends in real estate design and the built environment: The design trends I am seeing (and appreciate) are subtle mixed textures with warm grey undertones that work as a perfect backdrop for people to add their own pops of color. Serif is a perfect example as it is full of juxtapositions; mixing exposed concrete with natural wood, modern-industrial, yet inviting and functional. The homes at SERIF offer a perfect backdrop for anyone to find their fit and create an interior that reflects their own personal sense of style.
We asked Sheri three of her favorite picks to style the home:
Maker & Moss in Hayes Valley: This shop has a bright open and airy interior which is very inviting. I used to work in Hayes Valley and spend lunch breaks looking at their merchandise. Everything they sell is natural and handmade. I'm attracted to the earthy vibe which pairs really well with the design at Serif.
Paxton Gate in The Mission: I've been going to Paxton Gate since the 2000's. I love a good curiosities shop. It has very off-beat, tongue-in-cheek interior décor with a lot of subtle conversation pieces (taxidermy mice dressed to the 9's dancing with each other). I'm also a HUGE fans of terrariums and they have a large selection.
World Market: While it's a large chain, I can't help but purchase something for the home every time I'm here. I am attracted to all things well-made with a bohemian feel. This is my go-to place for colorful throw-pillows that add a nice pop.
"Nature inspires me."
Describe your personal favorite design features and finishes offered at Serif: The best parts of SERIF's architecture are the shape of the massing filling an almost triangular block as well as the honeycomb textured façade. My favorite interior design features include the exposed concrete ceilings when mixed with rich, wide-plank warm greige hardwood floors. The two play off each other balancing nature with industrial.
Bumblebee is an amazing functional and progressive product you'll find at Serif. There is a strong trend for living in smaller dwellings in both urban and rural areas. Bumblebee gives people the ability to make their bed disappear into the ceiling making room for activities such as working out or entertaining. This really is a game-changer.
Where business meets pleasure. Where cultures collide. Where everything is a little more…exciting. Welcome home to the heart of San Francisco's newest renaissance. Schedule your model home tour soon by emailing sales@serifsf.com or calling 415-805-8896.